SOLD OUT - FOR EARLY ACCESS TO PRE-ORDERS FOR BATCH 002 - JOIN OUR MAILING LIST 
*The Best Cycling Jeans for Women*
Ranked #1 cycling jeans for women by the Discerning Cyclist

S
traight
leg cycling jeans in soft indigo denim.  Cut to look fabulous both off and on the bike.  No seams to sit on or flashing of bum cleavage.  Enough stretch to be comfortable but not so much as to become jeggings.
Made from 97% organic cotton and 3% degradable elastane
Pre-washed to minimise colour rubbing and shrinking
Designed in the UK and made in Romania
Size range at launch: UK 6-18, please join the waitlist for other sizes
Our initial production runs are very limited but we will set up a waitlist for the next batch when we sell out.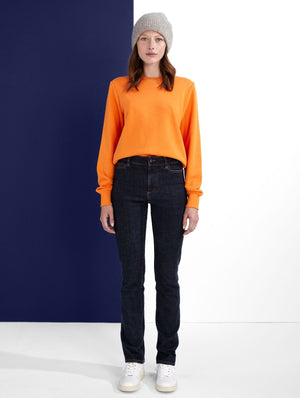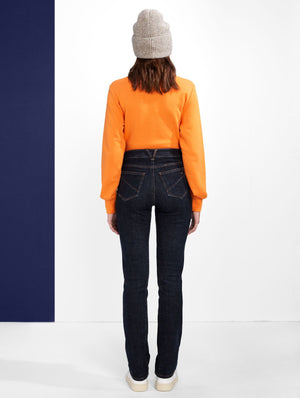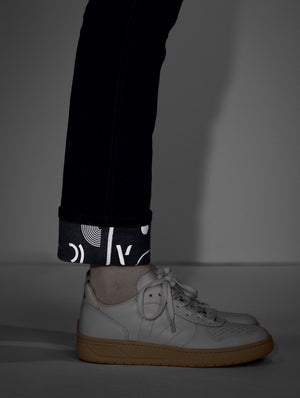 Designed for cycling
We began the design process by buying and testing every single women's cycle specific jeans available anywhere in the world. Gradually, we determined what worked and what didn't - and why.

We discussed at length the relative merits of padding and of diamond gussets, of no stretch and of lots of stretch, of reinforced belt loops and of self-fabric waist bands.

We then set out to design the very best pair of 5 pocket jeans that we could. They had to look and feel at least as good as 'normal jeans' whilst dealing with all the problems that cyclists - and women cyclists in particular - face.

A single panel running the complete inside length of both legs means no seams to cause discomfort when riding
Soft denim with a small degree of stretch to ensure comfort
Waist cut higher at the back and on a curve to improve comfort and fit, and to avoid bum-cleavage
Hidden reflective elements printed inside the right leg
Additional rear pocket for phone aids access and security
Reinforced belt loops to resist tearing
Rivet free construction
Zip fly
Subtly branded with a small embroidered logo on the rear pocket
Sustainability
Candiani (Italy) denim: 97% GOTS certified organic cotton, 3% Roica V550 degradable elastane
Cervotessile (Italy) pocket fabric: undyed organic cotton, OEKO-TEX and GOTS certified
Avery Dennison (Norway) reflectivity: Avery Dennison is certified Eco-Lighthouse ​and the reflectivity is OEKO-TEX 100 certified
Size & Fit
Sizing is key to getting a garment that fits you the way you want it to. Please check our Jeans size and fit guide. We only make a few garments in each production run so we may be unable to exchange a garment for another size if we have run out of stock.

Please contact us here or via live chat if you have any questions about fit or sizing.

We apologise that Collection 001 will offer only sizes UK 6-18. Please sign up for our waitlist if you're interested in other sizes. 
Care
Wash as infrequently as you feel comfortable with. Wash inside out and with dark colours. Try to avoid bio detergents and those that include phosphates. Do not iron the reflective print (even on the reverse of the fabric).

Machine wash at max 30 degrees C
Do not bleach
Cool iron
Do not tumble dry
So comfortable
Really impressed with the fit and the comfort of the jeans, definitely designed for ladies with thighs and calves that cyclists have. Very impressed.
Super comfy jeans!
The fit and quality of these jeans is spot on. Really comfy, both on and off the bike. Look great too!
Dream Jeans
My Vaela jeans are not only great for cycling but everyday life. The attention to detail is reflected in their design. Super comfortable- love the pockets and high waist. Always a thumbs up for a sustainable product. I highly recommend them.
So good I needed a second pair!
I've loved my Vaela jeans from the moment I unwrapped the first pair. Even before I put them on. The thought that's gone into them, even down to printing the washing instructions on the pocket lining! Brilliant. And they're so comfortable. And look great. And fit exactly as expected (perfectly). So I had to get a second pair. This time they were dispatched by Mailout and were so beautifully (and ethically) packaged that the postman was driven to comment as he handed over the package. Even better inside, could have been wrapped by angels. This probably sounds over the top but I've honestly never received anything so we'll presented, and the jeans are just fab!!!
Great fit
I really enjoy my jeans! Great fit and stretching material makes it very comfortable to wear. My fav jeans at the moment :)
001 jeans are amazing!
Super comfortable, so soft, great fit, nice classic design and love the eco credentials. I never cycle but still wear them all the time for walking and occasionally, gardening - especially good with the slightly higher backside for when you are bending over! They are also classy enough to wear into the office occasionally. I love them.
Fantastic Jeans
Had these for a week now and I love them. Was sitting as between sizes but tried by both and because the leg width felt the same, but the waist was snugger on the smaller size I went for those (I often get gaping back waist on trousers but these are spot on)
They are super comfy to cycle in and stylish off the bike. Reflective details are subtle but effective and the rear phone pocket is really well designed and very useful, even for my ridiculously large phone. Woyrld highly recommend, excellent jeans. (and lovely company doing good things the right way)
I love these jeans !!!
These are so comfortable, soft fabric and seam-free on the seat. I love these jeans !!!
Love my Vaela jeans
Love my Vaela jeans. Flattering shape and good quality. Plus stretchy, soft and comfortable on my bike. Would recommend.
Best jeans ever!
I am not a cyclist but these are honestly the only pair of jeans I have ever found that fit me properly. Perfect length and perfect fit on the waist (no bum cleavage) and look great too! Someone has really thought about the design of these from a women's perceptive. More please!