* LAUNCHING SOON *
Elvis & Kresse for Vaela
We are partnering with the fabulous Elvis & Kresse again to bring you this exclusive yellow skinny fire-hose belt. The yellow hose is the one that is used to fill the fire engine, so it's a bit thicker than the red belt. 
This belt is handmade with the Elvis & Kresse signature decommissioned fire-hose. It is 1.75cm wide and is available with a silver finish buckle. 
The belt is made to order, which can take an extra day or two.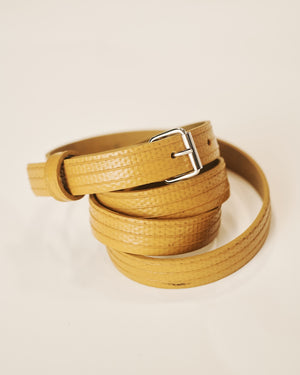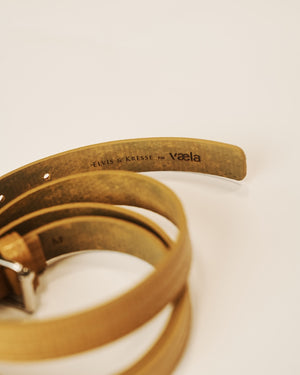 Elvis & Kresse, The Fire-hose Collection
Elvis & Kresse was founded in 2005 to rescue London's damaged, decommissioned fire-hoses. After a distinguished career fighting fires and saving lives the hoses were otherwise destined for landfill. We transform them into stunning life-style accessories through traditional craftsmanship and timeless design.

Due to the heroic nature of our vintage fire-hose each piece we make is entirely unique. Every year since, Elvis & Kresse have donated 50% of their profits from the Fire-hose Collection to The Fire Fighters Charity. This heroic material, once used to save lives, gets a second chance to keep giving back.
Genuine decommissioned yellow British fire-hose
Buckle in a "silver" metal finish
Presented in a reclaimed pouch
Etched Elvis & Kresse for Vaela logo
Handmade with hand-painted edges
Water resistant, Wipe-clean
Repaired for life
Dimensions: 1.75 cm wide
Made on demand in Kent, UK.
Sustainability
Made from damaged, decommissioned London fire-hoses, otherwise destined for landfill
Elvis & Kresse is a certified Social Enterprise, a founding UK B Corp and an accredited Living Wage Employer
They create several apprenticeships each year, run their workshop on renewable energy and pay real living wages
50% of profits from this collection is donated to The Fire Fighters Charity
Size & Fit
The belt is measured from the fold that holds the buckle to the third hole.

Sizes are: XS - 31" S - 33" M - 35" L - 37" XL - 39" XXL - 41"

The best way to ensure you receive the correct size is to measure an existing belt from the fold to the hole that you most use, then pick the corresponding size from the table above. Other sizes may be available by request.