* Limited run *

The ultimate bike bag - a pannier, tote and rucksack all-in-one. It transforms easily between modes and is big enough to get you through the day.
Pannier, rucksack and tote
Available in a black, dry-oiled organic cotton
Designed in London, made in the UK
Our initial production runs are very limited but we will set up a waitlist for the next batch when we sell out.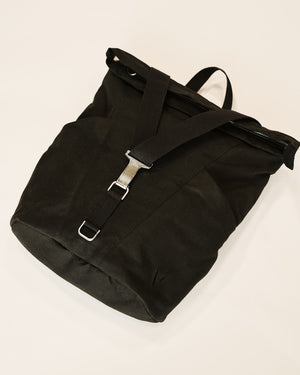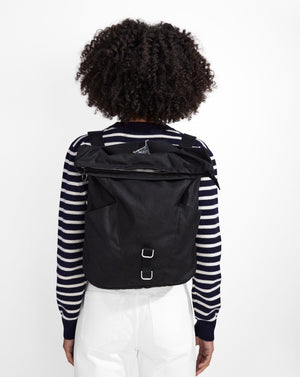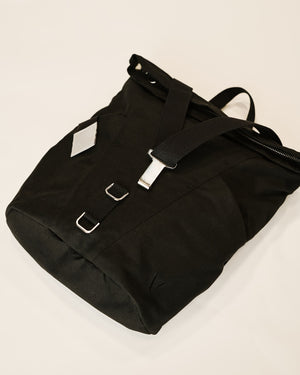 Designed for cycling
The ultimate bike bag - a pannier, tote and rucksack all-in-one. It transforms easily between modes, is big enough to get you through the day (but not too big) and has lots of features we think you'll love.

We spoke to our customers before setting out to design it to make sure it was large enough to take everything they normally carried but not so large as to take everything they sometimes carried.

In wearer trials, the bag was regularly used to carry a combination of work stuff (laptop, A5 note book, chargers), yoga kit (leggings, top, sweatshirt), bike equipment (lights and gloves), a small cosmetics bag, water bottle, coffee cup and various essentials (wallet, phone, keys and glasses.)


Dry-oiled organic cotton is showerproof and durable
Undyed organic cotton lining
Two generous 18cm front pockets, each easily holding an average reusable water bottle
Reflective tapes stitched into each front pocket that can be pulled out in the dark
The main bag is closed with solid zip
A 20cm zipped interior pocket easily fits a phone, keys and wallet
Internal laptop sleeve fits a 15" laptop
Adjustable webbing straps serve as both the tote's handle and the rucksack's shoulder straps
Adjustable pannier clips fit virtually all pannier racks
Cotton webbing grab handle
Wool padding in the base, back, laptop sleeve, and pannier clip cover to protect you and your belongings
The padded flap with magnetic snap ensures the pannier clips aren't felt when used as a tote or rucksack
Durable, premium stainless steel hardware from Italy, including ladder locks from Alce, snaps from AMF and zips from Lampo
Subtle Vaela branding embroidered in 'tone on tone' black thread
Sustainability
We have focused our efforts on making a bag that works hard, looks great and is made of sustainable materials. It's a sophisticated design and it's taken us longer and more prototypes to a final product than we'd originally anticipated. However, we're now very happy with it indeed.

For additional information on the items listed, please see our sustainability pages or contact us.


Key sustainability features:

Halley Stevenson (UK) shell fabric: dry-oiled (using olive oil instead of the usual paraffin) organic cotton fabric in black is compliant with REACH, and is OEKO-TEX and GOTS certified
Cervotessile SpA (Italy) lining fabric: undyed organic cotton is OEKO-TEX and GOTS certified
Rixen & Kaul (Germany) pannier clips: REACH compliant and made from reprocessed "Polyamide 6"
Lampo (Italy) zips: both are very high quality and made from stainless steel. The main zip has an OEKO-TEX certified black recycled polyester tape; the internal zip has an undyed GOTS certified organic cotton tape
Gütermann (Germany) thread: 100% recycled polyester is REACH compliant as well as certified according to OEKO-TEX and the Global Recycled Standard (GRS)
Size & Fit
The bags dimensions are:

Width: 39cm, Height: 48cm, Depth: 12cm
Laptop sleeve: 37cm tall x 28cm wide
Volume: 13L
Please contact us by email or via live chat if you have any questions re fit or sizing.
 
Care
The bag wipes clean with a damp cloth. Do not wash or dry-clean.
Stylish but initial strong smell
Well thought out design. I love the dual side pockets that can hold my water bottle and coffee thermos. The padded & zippered laptop pocket is perfect and I love the versatility of the carrying straps. The only issue is a persistent and pervasive lanolin like smell - it doesn't smell chemical, but I've been trying to air it out for a few weeks and the smell is still there. I'm hoping it will dissipate soon - it's an expensive bag and I want to be able to use it.
This is the bag you need!
I was lucky enough to win this bag in a charity auction. I love the style, the effortless conversion from rucksack, to shoulder bag to pannier. It's lovely to look at, has all the weather coating I need for the days I commute. Big enough for my laptop and books and shopping tours of my favourite vintage shops. The quality is superb. The black canvas is rich and deep. It's comfy to carry and looks great. The ethical ingredients make it such an important purchase. There's a magical clip that holds it securely on my bike rack. My bike 'expert' husband is envious. Thank you! X
Great multifunction bag!
We all know how difficult it is to transport everything you need when using a bike. Well the team at Vaela have clearly thought about all the challenges and designed a bag that neatly and stylishly resolves them all, with plenty of padding for your laptop. Great design!
Incredibly well made bag / stylish too
Very fortunate to have had a chance to buy one of these hot off the press & i am seriously impressed with it. The style is sleek, it can clip onto the back rack. It's probably the most stylish panier i've seen out there. There are reflectors built in, a seperater for your laptop and the finish on the zips, etc are impressive. You can tell that the bag is well made & I'm all about that these days with our fast fashion market churning out products that fall apart in an instant. Get something that's well made, that will last your lifetime. This is that something.